Learn the essentials of RegTech
The curriculum covers RegTech from strategy and innovation to investment, implementation and impact
1

INTRODUCTION TO THE PROFESSIONAL REGTECH CERTIFICATE

WELCOME TO THE PROFESSIONAL REGTECH CERTIFICATE

2

THE FUNDAMENTALS OF REGTECH

THE MARKETPLACE FOR REGTECH INNOVATION & INVESTMENTS*

3

HOW FINANCIAL INSTITUTIONS CAN ADOPT REGTECH

OVERVIEW OF THE FINANCIAL INSTITUTIONS' PERSPECTIVE *

ENGAGING WITH REGTECH COMPANIES*

HOW COMPLIANCE LEADERS ASSESS REGTECH PROSPECTS

USING TECHQUISITIONS IN REGTECH

REGTECH SKILLS & RECRUITMENT

4

THE REGULATORS' PERSPECTIVE

THE REGULATORS' PERSPECTIVE & SUPTECH*

THE REGULATORS' ROLE IN THE ADOPTION OF REGTECH

REGULATORY REPORTING: WHEN SUPTECH MEETS REGTECH

5

REGTECH FOR DATA REPORTING

USING REGTECH TO IMPROVE REGULATORY REPORTING*

REGULATORY REPORTING & DATA MANAGEMENT

FUND REPORTING CASE STUDY

DATA MANAGEMENT CASE STUDY

6

REGTECH FOR KYC & ONBOARDING

ONBOARDING CUSTOMERS USING DIFFERENT TECHNOLOGIES*

VIDEO IDENTIFICATION FOR ONBOARDING*

USING TECHNOLOGY TO OVERCOME KYC & CDD CHALLENGES*

AUTOMATING KYC & ONBOARDING

CLIENT ONBOARDING BEYOND KYC*

DIGITAL AND PERPETUAL LIVE KYC

CUSTOMER ONBOARDING CASE STUDY

ACCOUNT OPENING CASE STUDY

7

REGTECH FOR ANTI MONEY LAUNDERING & FIGHTING FINANCIAL CRIME

INTRODUCTION TO THE CHALLENGE OF FINANCIAL CRIME*

USING TECHNOLOGY TO MODERNISE THE AML REGIME & FINANCIAL REGULATION IN THE US*

HOW COMPLIANCE LEADERS USE TECHNOLOGY TO COMPLY WITH AML

REGULATORY REQUIREMENTS, CHALLENGES & OPPORTUNITIES

DEPLOYING NEW TECHNOLOGIES TO DEFEND AGAINST FINCRIME

AML & TRANSACTION MONITORING

TRANSACTION MONITORING CASE STUDY

8

CHALLENGES & OPPORTUNITIES OF COMPLYING WITH CYBERSECURITY REGULATIONS

KEEPING AHEAD OF FRAUD & FINANCIAL CRIME

IMPACT OF REMOTE WORKING ON CYBERSECURITY

QUANTIFYING CYBER RISK USING THE FAIR METHODOLOGY

9

ADVANCED TECH - USING AI & ML

PRACTICAL USES OF AI & MACHINE LEARNING IN THE FIGHT AGAINST FINANCIAL CRIME*

USING AI & MACHINE LEARNING TO ENHANCE AML

NEW TECHNOLOGIES TO SOLVE REGULATORY PROBLEMS

AI TO REDUCE FALSE POSITIVES AND DETECT RISK

INSIGHT ARTICLE - ENHANCING TRUST WHILE ADOPTING ARTIFICIAL INTELLIGENCE

INSIGHT ARTICLE - THE TECHNOLOGIES YOU NEED TO UNDERSTAND BEFORE BUYING A REGTECH SOLUTION

10

REGTECH FOR SPECIFIC LEGISLATION

REGTECH SOLVING THE CHALLENGE OF OPEN BANKING IMPLEMENTATION

REGTECH FOR SM&CR COMPLIANCE

GDPR, DATA SHARING AND DATA PRIVACY CONTROLS IN AN AI WORLD 

12

FURTHER READING & CASE STUDIES

THE REGTECH100 - THE MOST INNOVATIVE REGTECH COMPANIES IN 2022

INSIGHT ARTICLE - BALANCING COLLABORATION SECURITY & PRIVACY IN THE REMOTE WORLD WORK

INSIGHT ARTICLE - BREAK-THROUGH INNOVATIONS IN THE FINANCIAL SECTOR

INSIGHT ARTICLE - SHOULD FINANCIAL INSTITUTIONS BUY, BUILD OR PARTNER WITH A REGTECH COMPANY

RECOMMENDED REPORTS, BOOKS, ARTICLES & WEBSITES
Learn from the leaders of RegTech
Gain in-depth knowledge from industry-leading instructors and insights from guest experts from financial institutions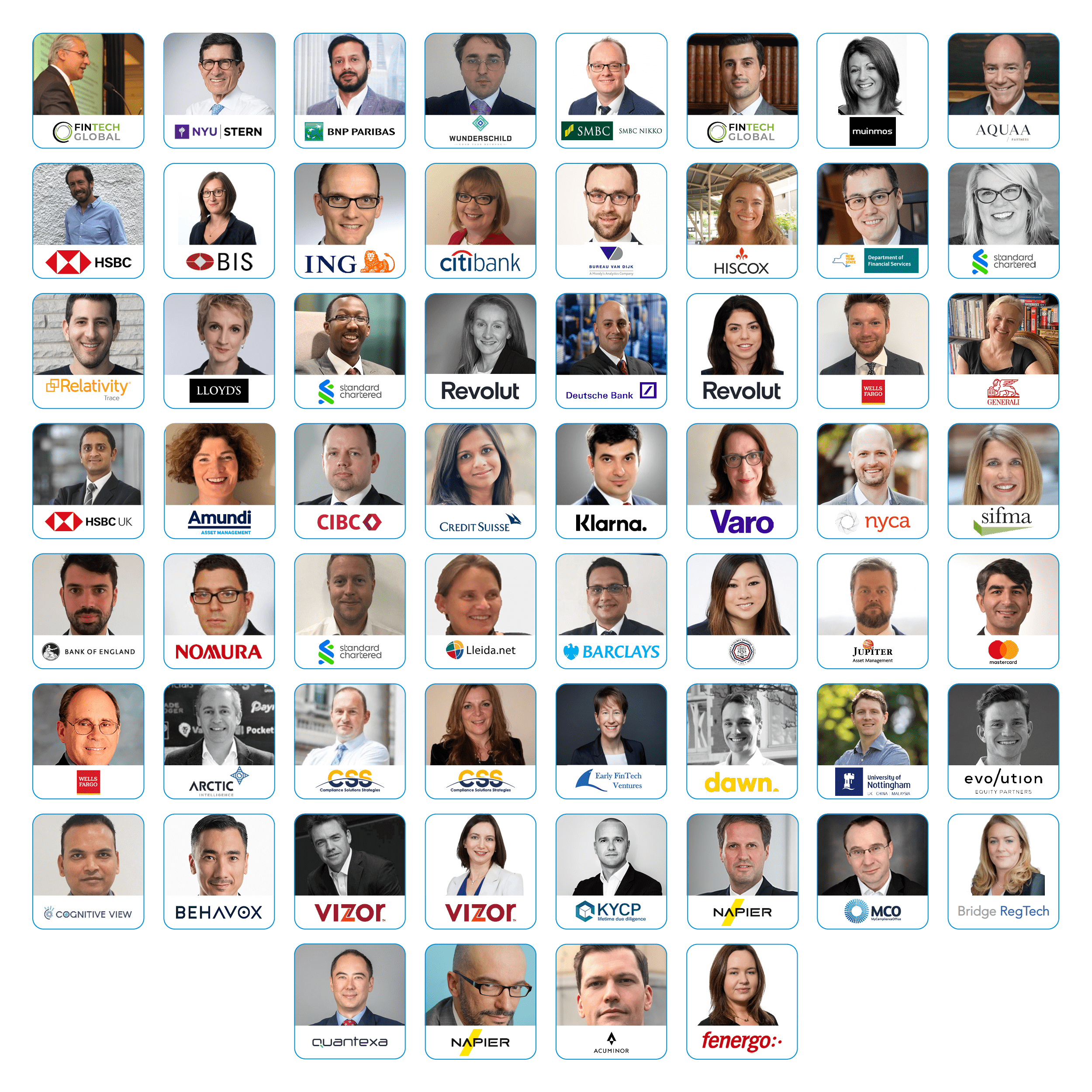 GET 20% OFF THE COURSE PRICE
As part of our new season offer sign up today and enroll for only $312!
RegTech is mission critical for financial institutions
RegTech innovation is disrupting and redefining processes, workloads, roles and responsibilities.
RegTech solutions are impacting the way leaders manage financial institutions and radically changing the way professionals work in compliance, risk management, technology, operations, open banking and digital transformation.
RegTech training is now essential
Financial services professionals need to enhance their RegTech knowledge and skills in order to protect their organizations, their customers and themselves.
Regulators increasingly expect financial institutions to improve performance by adopting RegTech and are holding organizations and individuals to greater account. in parallel, the commercial imperatives to control costs, keep up with industry developments and get ahead of competitors are stronger than ever.
The Professional RegTech Certificate addresses real-world challenges
Presented by industry professionals for industry professionals, the course combines proprietary market intelligence with insights from leading-edge RegTech innovators and senior leaders from financial institutions.
The course provides a comprehensive strategic review of the RegTech industry followed by in-depth analysis of the real-world impact of the latest industry developments within the compliance value chain and across the entire organization.
Register Now
Don't delay, sign up now and get 20% off!
Get the skills and forward-thinking you and your organization need
Online, on demand and high on impact. It is the most comprehensive practical course on RegTech available anywhere.
Designed to fit around professional work commitments and meet professional learning objectives. Self-paced and accessible 24/7. It takes 10 to 20 hours to complete. A highly valued certificate is awarded on completion to recognize the commitment to skills development and forward-thinking on RegTech.
The course is produced by FinTech Global & RegTech Analyst
We serve the world's largest FinTech & RegTech networks, produce more RegTech research than any other organization, and run the world's biggest RegTech conferences.
The course has been created in response to demand from our network. It combines our proprietary research with presentations from expert instructors and curated insights from amazing industry-leaders who have shared their expertise at our events.
Enroll Today
Register now to earn the Professional RegTech Certificate at the discounted rate of $312!